JIVAN GITA presents an 'instrumentally' multicultural performance –
comprised of western classical Violinist Alex Johnson,
David Brunn on the North Indian Tabla Drums and Grand Piano,
with Diane Givens playing the ancient Tanpura of India, the sound of "Aum".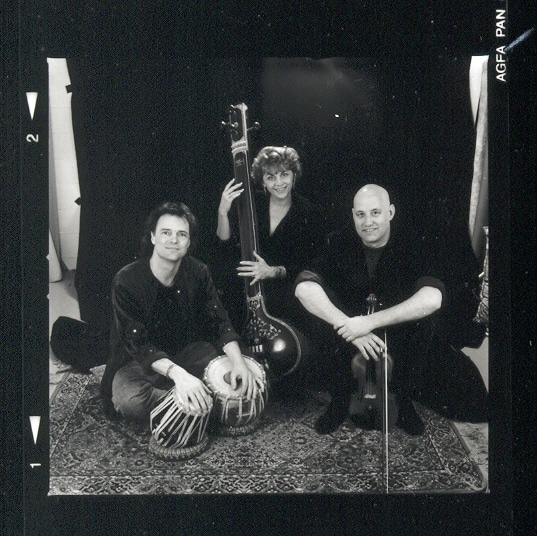 "Breathe deep,
relax and sense East joining West
in this exotic musical experience".
My collaboration with Jivan Gita began when I met David Brunn in Seattle through a mutual friend in the music business. David is an accomplished tabla player who has studied in India with some of the masters of tabla, like Zakir Hussain, Ustad Akram Khan, and others. He combines his talent and experience in North Indian Classical Music with his vast background as a keyboard player of multiple styles.
Though I never had formal training in the complexities of Indian Classical Music, I have listened to and enjoyed actively Indian music as long as I have listened to rock and western classical music. So I have a feeling for it that is in my musical makeup, but of course has a primarily western flavor to it.
So we began to play together and found that our two backgrounds and styles meshed very well and we were able to create a new and unique merging of "East Meets West" style of original music.
To top off the group we added Diane Givens who played the Tanpura, which is an instrument that provides a continuous harmonic drone typically used in Indian Classical music.
When I moved from the area and we had other life changes, we dissolved the group and moved on. Jivan Gita released one album titled "Instant Ecstasy". That album is no longer available to the public.
Here are a couple of cuts off of that album to get a sample of our styles that joined together to create this different blend of "East Meets West" –
"On The Verge"
"Innocent Reflection" (aka "Boundless Heart")
---
"On the Road to Allahabad":
Released by David Brunn and Alex Johnson
In addition to working together in the group Jivan Gita, David and I co-produced the album "On The Road to Allahabad", featuring Akram Khan on tabla.
This musical release was related to our trip to India to prepare for an upcoming Kumbha Mela in Allahabad. As part of our documentation of our journey to India for the Kumbha Mela we recorded this album in a studio in Delhi, with local musicians and music provided by Akram Khan.
The music on this album was used in conjunction with numerous multimedia presentations by the group collectively known as "KMP 2001", which stands for "Kumbha Mela Project 2001".
KMP 2001 provided various artistic and musical documentation of the massive Hindu religious festival in India – a festival that dates back over 5,000 years.
You can listen to this album here:
On The Road To Allahabad:
Akram Khan – Tabla / Rakesh Prassana – Flute / S.A. Alvi – Sitar