This page serves as a sort of "tribute" to my friend Jim Forshey.
He was a country music songwriter and musician in the Seattle Area at the time I was there.
Below: one of the rock rooms in Lang Studio in Seattle, WA. (Shoreline).
The acoustics in these rooms were great for violin!

That's me on violin, "Country" Roy in the middle, Jim Forshey on guitar.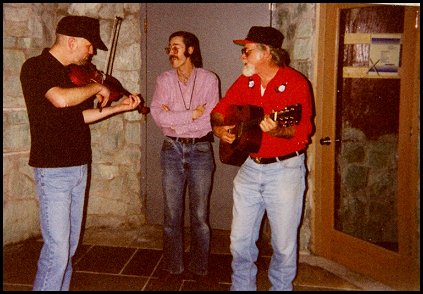 Below are a couple of recordings I did with Jim at Lang Studios in Seattle… some time ago.
I recorded the violin for him on these two tracks, and was surprised how much of it they (the producers) left in the final mix. I believe he recorded these songs as part of a demo to provide for someone he knew in the music business as part of a deal he was working on.
These are the first actual studio recordings of me playing violin on a country music track.
Here is the final track for: "Kenneth's Happy Bachelors Club" – Jim Forshey
"We can rent that blue Camaro, and go camping by a stream…
but I can't marry Momma – it's just a funny thing"
Jim wrote these 2 songs, played guitar on them and was the singer as well. He brought in myself on violin, another guitar player, a bass player, and a drummer. The person in the photo in the middle was Roy, I believe he had a country radio show at the time, and was maybe helping to produce these recordings (if I recall correctly).
Here is the final mix Jim gave me: "Pity The Fool" – Jim Forshey
"with the wine and teardrops mixed, and his dream turns out so cruel…
how I pity the fool"
Jim Forshey was a talented country music songwriter, musician and singer. He was a veteran who had a big heart and was a true original. Jim knew a lot of people in the country music industry and played in country bands for many years. It was always a joy to talk with him about country music and all the old time country music artists.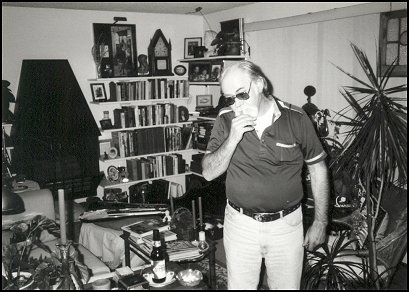 I have included a photo of Jim at a "rehearsal" – getting ready for the recording.
I lost track of Jim over the years, so if anyone who sees this knew Jim Forshey, country music artist, please contact me and update me if you would.
Thanks.